Description
In our efforts to continually improve our services, quality and product offerings, we take pride in making sure our parts are at a quality standard that sets them apart from the rest.
Behold the new KT4 3.0 T6 Down Pipe Upgrade. Our newest version of the downpipe is a better fit for easier install and absolutely no rattles.
Get one of our hand made performance pipes in as little as a week! We have taken considerable efforts to improve our supply chain so that you can get parts faster.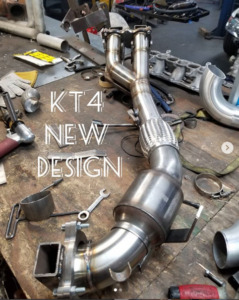 Specs:- 316 SS, (Stainless 316 is more durable than 304 because it provides a higher corrosion resistance)
– Mandrel Bent + Sanitary 
– Designed to withstand 1,000+ Horse Power
– Full replacement against any manufacturer defects
***3 week lead time on this product
2016 VOLVO S60 T6 P3 4 DR SEDAN B6304T4 AWD TF-80SC AWD
2015 VOLVO S60 T6 P3 4 DR SEDAN B6304T4 AWD TF-80SC AWD
2014 VOLVO S60 T6 P3 4 DR SEDAN B6304T4 AWD TF-80SC AWD
2013 VOLVO S60 T6 P3 4 DR SEDAN B6304T4 AWD TF-80SC AWD
2012 VOLVO S60 T6 P3 4 DR SEDAN B6304T4 AWD TF-80SC AWD
2011 VOLVO S60 T6 P3 4 DR SEDAN B6304T4 AWD TF-80SC AWD
2015 VOLVO S80 T6 P3 4 DR SEDAN B6304T4 AWD TF-80SC AWD
2014 VOLVO S80 T6 P3 4 DR SEDAN B6304T4 AWD TF-80SC AWD
2013 VOLVO S80 T6 P3 4 DR SEDAN B6304T4 AWD TF-80SC AWD
2012 VOLVO S80 T6 P3 4 DR SEDAN B6304T4 AWD TF-80SC AWD
2011 VOLVO S80 T6 P3 4 DR SEDAN B6304T4 AWD TF-80SC AWD
2010 VOLVO S80 T6 P3 4 DR SEDAN B6304T2 AWD TF-80SC AWD
2009 VOLVO S80 T6 P3 4 DR SEDAN B6304T2 AWD TF-80SC AWD
2008 VOLVO S80 T6 P3 4 DR SEDAN B6304T2 AWD TF-80SC AWD
2016 VOLVO V60 T6 POLESTAR P3 WAGON B6304T5 AWD TF-80SC AWD
2016 VOLVO V60 T6 R-DESIGN P3 WAGON B6304T4 AWD TF-80SC AWD
2015 VOLVO V60 T6 POLESTAR P3 WAGON B6304T5 AWD TF-80SC AWD
2015 VOLVO V60 T6 R-DESIGN P3 WAGON B6304T4 AWD TF-80SC AWD
2009 VOLVO V70 T6 P3 5 DR WAGON B6304T2 AWD TF-80SC AWD
2008 VOLVO V70 T6 P3 5 DR WAGON B6304T2 AWD TF-80SC AWD
2016 VOLVO XC60 T6 P3 SUV B6304T4 AWD TF-80SC AWD
2015 VOLVO XC60 T6 P3 SUV B6304T4 AWD TF-80SC AWD
2014 VOLVO XC60 T6 P3 SUV B6304T4 AWD TF-80SC AWD
2013 VOLVO XC60 T6 P3 SUV B6304T4 AWD TF-80SC AWD
2012 VOLVO XC60 T6 P3 SUV B6304T4 AWD TF-80SC AWD
2011 VOLVO XC60 T6 P3 SUV B6304T4 AWD TF-80SC AWD
2015 VOLVO XC70 T6 P3 5 DR WAGON B6304T4 AWD TF-80SC AWD
2014 VOLVO XC70 T6 P3 5 DR WAGON B6304T4 AWD TF-80SC AWD
2013 VOLVO XC70 T6 P3 5 DR WAGON B6304T4 AWD TF-80SC AWD
2012 VOLVO XC70 T6 P3 5 DR WAGON B6304T4 AWD TF-80SC AWD
2011 VOLVO XC70 T6 P3 5 DR WAGON B6304T4 AWD TF-80SC AWD
2010 VOLVO XC70 T6 P3 5 DR WAGON B6304T2 AWD TF-80SC AWD
2009 VOLVO XC70 T6 P3 5 DR WAGON B6304T2 AWD TF-80SC AWD